February 9, 2019
The DXpedition official opening ceremony took place at the beach (CW site) on February 9, 2019 and attracted wide TV (Brunei TV coverage) and printed media coverage. Telecom and local officials were present: "Amateur Radio is more than a hobby".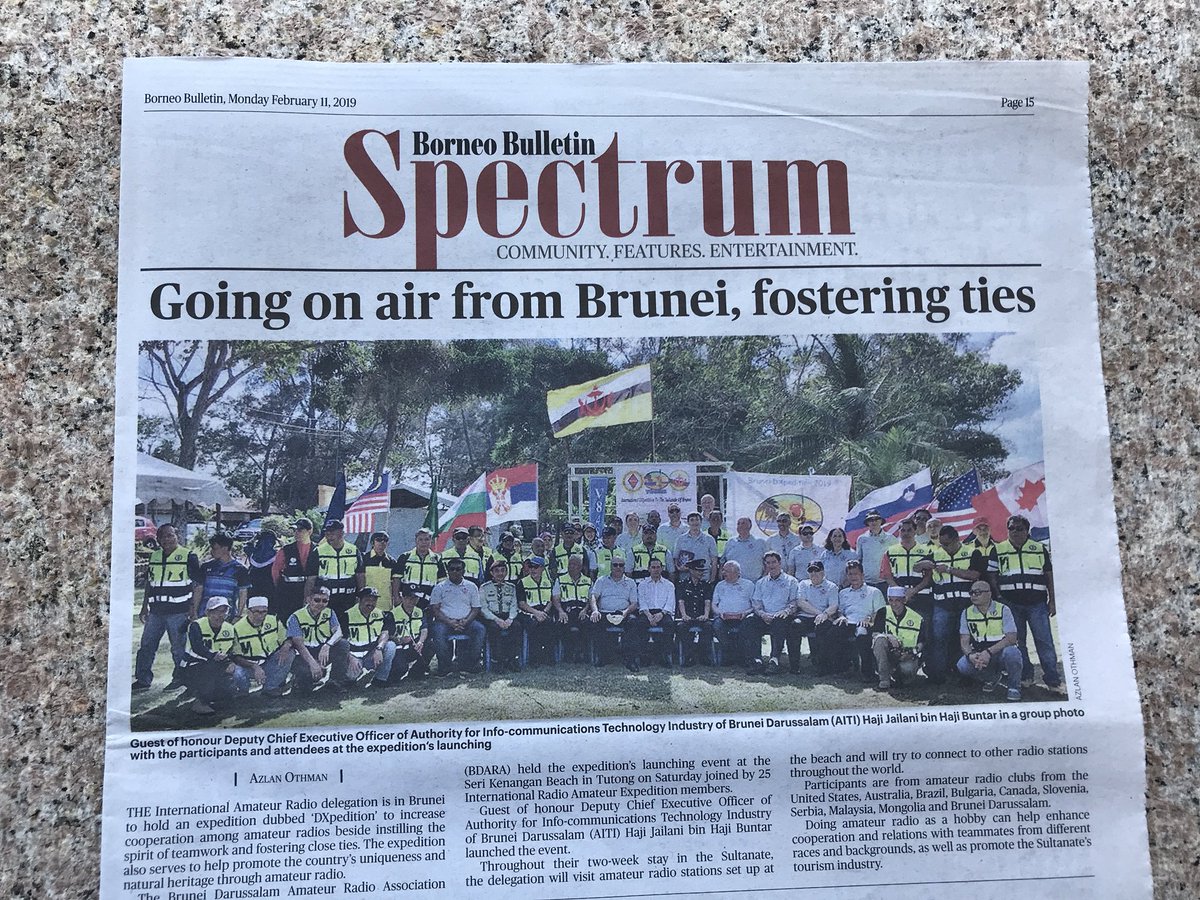 January 2019
While in Brunei, our team is making plans for administering a possible VE exam session. Stay tuned for more details on this.
One week to go until the team meets in Brunei on Februry 5, 2019.
Tamat (V85TL) is helping us on many fronts. He just received the last equipment crate comming from USA.
January 2019
60M band:
The V84SAA team received permission to operate on the 60M band. We will be able to make the first ever 60M QSOs from Brunei!
The Brunei Telecomunication Authority gave the team permission to use the following frequencies: 5.126 MHz, 5.132 MHz, 5.147 MHz
Opening Ceremony:
The official opening ceremony for the V84SAA DXpedition was set for February 9, 2019 at 15:00 (Local Time). Stay tuned for more details on this event.
6M EME:
We are working to bring an 6M EME setup to Brunei. The logistics are not easy but we think it would be something nice to have. If we are successful, this is will the first 6M Moon Bounce activation EVER!
Shipping Crate:
A crate with essential equipment for our DXpedition left USA on January 9, 2019 and it is now in its way to Brunei. Shipping heavy equipment such us radios and amplifiers is the only way to get this equipment available for the team in Brunei. But, shipping overseas it is also very expensive. We thank all donors who helped us get this done!
Site Survey:
Our team members Kom (9M6KOM) and Ali (9M6ZAE) have traveled to Brunei to survey the operating site and lodging facilities for the team. This will make it easier for the team arriving in February 2019 to set up camp and get on the air quicker! Thank you Kom & Ali!
ICOM:
The V84SAA team received IC-7610 transceivers from our premier sponsor ICOM. Thank you ICOM!
This will make it so much easier to work the 160M band from Brunei!
December 2018
The V84SAA team is working on the logistics of transporting our radio equipment to Brunei.
We are interfacing with the local hams to ensure a smooth process.
Also the team is discussing sponsorhip opportunities with different amateur radio vendors.
Stay tuned for more news comming out soon!
November 2018
V8 - Brunei Darussalam
An International team is heading to Seri Kanangan Beach in the Tutong District in February 2019.
The team lead by K1LZ will include K1ZM, KK1ZM, PY5EG, YT1AD, JT1CO, KO8SCA, S55M, VK3FY, RA9USU, RN5M, LZ1NK, LZ2HM, 9M6KOM, 9M6ZAE, 9M6ZIM, 9M6JC and the honorary Brunei members: V85TL, V85AN.
The team will be operating with the special call V84SAA, thanks to the support of V85T, Tamat Lampoh, and the Brunei Darussalam Amateur Radio Association.
Team members will begin to arrive February 4th, meet on February 5th, begin setting up the antennas and stations on February 6th, to be ready to begin operations at 0001 local time on February 7th (1601Z February 6th). The license is good through 2359 local time on February 18th (1559Z February 18).
The team will focus on the low bands, but will also have a presence on the WARC-79 bands and higher bands. For antennas the team will use verticals on 160 and 80 meters and a four square on 40 meters located on the beach. Plans call for two Beverages: one on Europe and another towards North America.
Topband Guru K1ZM, Jeff, a member of the V84SAA team, noted that the greyline at V8 sunset will match up great with the sunrise in North America starting in NorthEast Canada. So, all of North America will have some portion of common darkness with the V84SAA team.